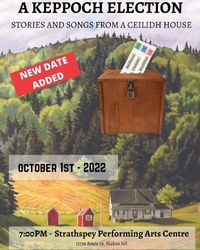 A Keppoch Election - Stories and Songs From a Ceilidh House
When
Occurs on Saturday October 1 2022
Approximate running time: 2 hours
Venue
Event Notes
×
The Ships of 1801 is pleased to present their latest production, The Keppoch Election.
A spirited and talented cast of 34, ranging in age from 6 to 84, will bring you songs, music, dance and laugh out loud comedy with a generous portion of sarcasm.
The Keppoch Election is loosely based on a 1940's style election, a period when a provincial election meant a great deal to rural communities because government jobs - such as road foreman and work at the fish hatchery - were directly related to the winning party. As a result, some methods of securing votes were certainly suspect.
Along with the election, the show features the most awkward marriage proposal imaginable. Add to that a serious flaring up of tensions within the MacLean family and outright hostility in the community, particularly between the fiddling MacDonald Liberals and the singing, dancing Murphy Tories.
Between you, me and the gatepost, if you are interested in getting on the voters list, Dunc MacLean suggests you contact him and we will try to get you on through the back door.